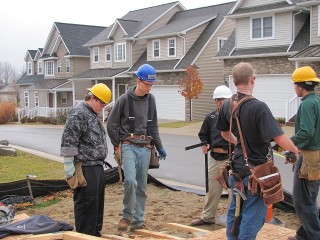 The AASBIP provides Ann Arbor high school students with a
unique learning experience. Through the actual construction
of a new home, from raw land to finished product, students
learn the importance of math skills, architectural dimension,
job satisfaction, along with teamwork, responsibility and
dependability. Upon completion of the program, students
have an awareness of the many opportunities and benefits
of the construction industry and related fields.
The Ann Arbor Student Homebuilding Program began as the
dream of representatives of the school system, local businesses,
and banking representatives. They believed that high school
students could, with proper supervision and assistance, build
a quality house.
The Ann Arbor Student Home Building Program is currently
putting together an alumni association. If you are an alumni
of the program or would like more information please e-mail asalemi@bragannarbor.com and follow along wih the latest acheivements,and fun on the worksite on Facebook at https://www.facebook.com/Ann-Arbor-Student-Building-Industry-Program-182102411720/
For photos, home
descriptions and more,
select from these options:


The Current Home


Our Previous Homes


The Sumerset Neighborhood